Thiam cements legendary status
« Back
05.08.2021 00:00
Nafissatou Thiam became just the second woman in history to successfully defend an Olympic combined events title, taking heptathlon gold in Tokyo with a world-leading 6791.
Behind her, Anouk Vetter and Dutch teammate Emma Oosterwegel took silver and bronze, Vetter breaking her own national record with 6689 and Oosterwegel adding almost 300 points to her best with 6590.
After the first few events, it seemed as though the heptathlon would be another classic duel between Thiam and world champion Katarina Johnson-Thompson. The Briton had been injured for most of this year but was rounding into form just in time for the Olympics and got off to a promising start in Tokyo, clocking 13.27 – the second-fastest time of her career – in the 100m hurdles.
Thiam, meanwhile, ran a solid 13.54 while Vetter opened her campaign with a 13.09 PB. USA's Kendell Williams was the fastest in the first event, clocking 12.97.
Thiam banked valuable points in the high jump, as she often does, though her 1.92m leap was some way down on her usual big heights. Still, it was enough to put her in the lead.
Vetter and Oosterwegel both cleared 1.80m, a PB for the latter, to keep them on course for a career-best score. Johnson-Thompson cleared a season's best of 1.86m to move into third place overall, suggesting she could perhaps be a medal contender.
Thiam and Vetter were among the best in the shot put, throwing 14.82m and 15.29m respectively. At the end of that event, Thiam enjoyed a brief stint in the lead while Vetter moved up to second place. Johnson-Thompson threw 13.31m, the second-best mark of her career, to remain in the top five, while Thiam's Belgian teammate Noor Vidts moved into third overall after throwing 14.33m.
But the standings all changed again after the 200m – and, indeed, it marked the end of Johnson-Thompson's competition.
Just as the world indoor champion was starting to pull ahead on the bend, she suddenly pulled up and then collapsed on to the track, clearly in a lot of pain. Medics rushed over with a wheelchair, but she refused the help and instead got back up and limped to the finish. Later that evening it was confirmed that she had torn her calf.
Vetter, thanks to a 23.81 run in the 200m, moved into the overall lead at the end of the first day, 27 points ahead of Vidts, who ran 23.70. Thiam, who ran 24.90, dropped to third overall, but was only 47 points adrift of Vetter. Oosterwegel, meanwhile, was down in 11th but knew her strongest events were yet to come on day two.
Thiam had a curve ball thrown at her on the morning of the second day as her coach tested positive for Covid and so was unable to head to the stadium. Despite that, Thiam managed to regain focus and produced the best mark of the day in the long jump, leaping 6.60m, to move into second place.
Vetter jumped 6.47m, which was enough to hold on to the overall lead by four points, while Oosterwegel moved up to eighth after jumping 6.29m.
There was a big question mark hanging over Thiam heading into the javelin. At her peak, she is one of the best javelin throwers in the world – she holds the Belgian record at 59.32m – but in recent years a persistent elbow injury has affected her performance. It was the one heptathlon discipline she hadn't contested at all in 2021.
She needn't have worried, though. After a tentative opener of 49.63m, she sent her spear out to 54.68m with her next effort, producing the best throw of the day and regaining the overall lead. Vetter also performed well, throwing 51.20m, and Oosterwegel excelled with 54.60m.
Vidts dropped down to fifth after throwing 41.80m, while Williams moved into third after her 48.78m effort. But Vidts had one of her best events still to come.
Going into the 800m, Thiam had a comfortable 64-point margin over Vetter as well as the knowledge that she was a better 800m runner than the Dutch athlete. But the bronze medal was all to play for between Vidts, Oosterwegel and Williams.
After a conservative first lap, Vidts started to kick ahead but Oosterwegel went with her. Further back, Vetter was tracking Thiam but didn't have the energy to attempt a kick of her own in a bid to beat the Belgian.
Thiam finished in 2:15.98, giving her a final score of 6791, while Vetter followed in 2:18.72, bringing her tally to 6689 for silver.
Vidts crossed the line in 2:09.05 but Oosterwegel's 2:11.09 clocking – her fifth individual PB of the competition – was enough to move into third place overall with a score of 6590. Vidts missed out on a medal but was rewarded with a PB of 6571. Williams placed fifth with 6508, just ahead of US teammate Annia Kunz, who scored 6420. Germany's 2017 world silver medallist Carolin Schafer placed seventh with 6419.
"I still cannot believe it," said Thiam, who joins US legend Jackie Joyner-Kersee as the only other back-to-back winner of an Olympic heptathlon title. "I'm just so happy, I don't know what to say.
"The first day was difficult for me, but I started day two really focused. I knew I needed to do something really good in the long jump and javelin. I was hoping to do a little bit better in the 800m, but overall I'm really happy. What counts the most is the gold medal, and I got it."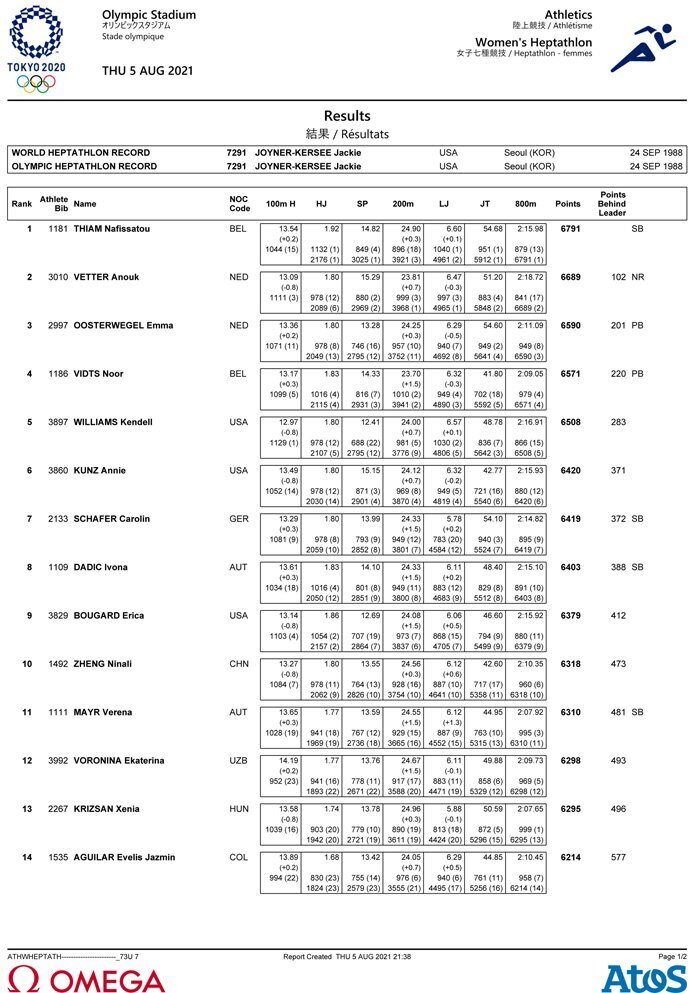 World Athletics